Moving Forward with Purpose (Series)
Anxious about tackling another hectic semester and the important decisions you have to make? Join the Academic Guides to create and pursue a purposeful vision for this semester, your major, and your career. In our Moving Forward with Purpose series, we'll talk about how to set priorities and achievable goals to maintain balance, how to overcome obstacles so you don't get sidetracked, and ultimately how to make decisions that will help you thrive this semester and beyond.  
College can be fun and exciting, but getting through college, especially at a place like Duke, can be tough. You might be thinking to yourself, do I belong here? What if I fail? What am I going to do with my life? At Duke Real Talk, we'll think through these and other hard questions out loud with fellow students, faculty, and staff. These biweekly casual conversations are a space to relax and be real, a time to vent and learn from others, a way to help you make it (not fake it!) through Duke. Duke Real Talk will be held every other Thursday night at 8pm beginning February 4th. 
Study Break at the Gardens
The Academic Guides have once again teamed up with the Duke Gardens to offer students a chance to take a break from studying and recharge surrounded by the beauty of the Gardens. Come join us at 3pm on Thursday, January 28th; Thursday, February 25th; Thursday, March 25th; Thursday, April 8th; and Thursday, April 22nd.

May I please have your attention?: An Invitation to Pause, Explore, and Connect​
Slow down and enjoy some art at the Nasher Art Museum with the Academic Guides!
Join the Academic Guides at the Nasher Art Museum for our series, "May I please have your attention?: An Invitation to Pause, Explore, and Connect." Our outings to the Nasher offer you a chance to slow down, focus our attention, appreciate the world through art, and connect with other students — in person! This program is for everyone, regardless of your level of familiarity with art. We'll be guided by Ellen Raimond, Assistant Curator of Academic Initiatives, who will provide us some guidelines for how to look at, understand, and simply enjoy art.
Each session will focus on the following themes:
February 12: People (How do we pay attention to others around us?)
March 12: Places (How does a place/the physical environment shape our lives? How do humans shape a place/the physical environment?)
April 9: Problems (How do we understand what's at stake in a particular social problem?)
After the scheduled portion of each session, you may spend some time in the Nasher's outdoor sculpture garden until they close at 4PM.
Draw and De-stress at the Gardens with Dr. Paul Manos (Biology)
Friday, March 19 & 26, 3-4PM
Did you know drawing is an excellent way to calm your mind and study nature? At this Duke Gardens program, botany professor Dr. Paul Manos will guide us in observing nature through drawing. No drawing skills are required to join! The point is not to draw well but to be attentive, notice details otherwise overlooked, defamiliarize the familiar, and appreciate nature through close observation. Participants will each receive a sketch pad and sketching pencils. Space is limited to 12 participants per session.
S.M.A.R.T. Study Halls are a great way to develop effective learning strategies and build structure and accountability into your study routine with fellow students. These study halls will meet biweekly beginning Monday, February 1st, with one morning and one evening session offered, and will be facilitated by the Academic Guides. Each session will begin with a group check-in and introduction of a learning strategy, followed by 1.5 hours of study time (either individual or group, depending on your group) and a wrap-up discussion to set goals for the next two weeks. Participants may also meet individually with Academic Guides to discuss any questions during this time. We highly encourage participants to attend regularly to get the most of out of the S.M.A.R.T Study Hall, but drop-ins are welcome every session.
Major Declaration Nuts and Bolts
February 24   7:30-8:30pm
Major declaration is March 5! Walk through the nuts and bolts of making a four-year plan and learn about the tools and resources that will make it easy.
Guides invited students to write down one thing they'd like to leave behind from Fall 2020, throw it away, and leave with an affirmation or inspiring quote.
Wellness Walks in the Duke Gardens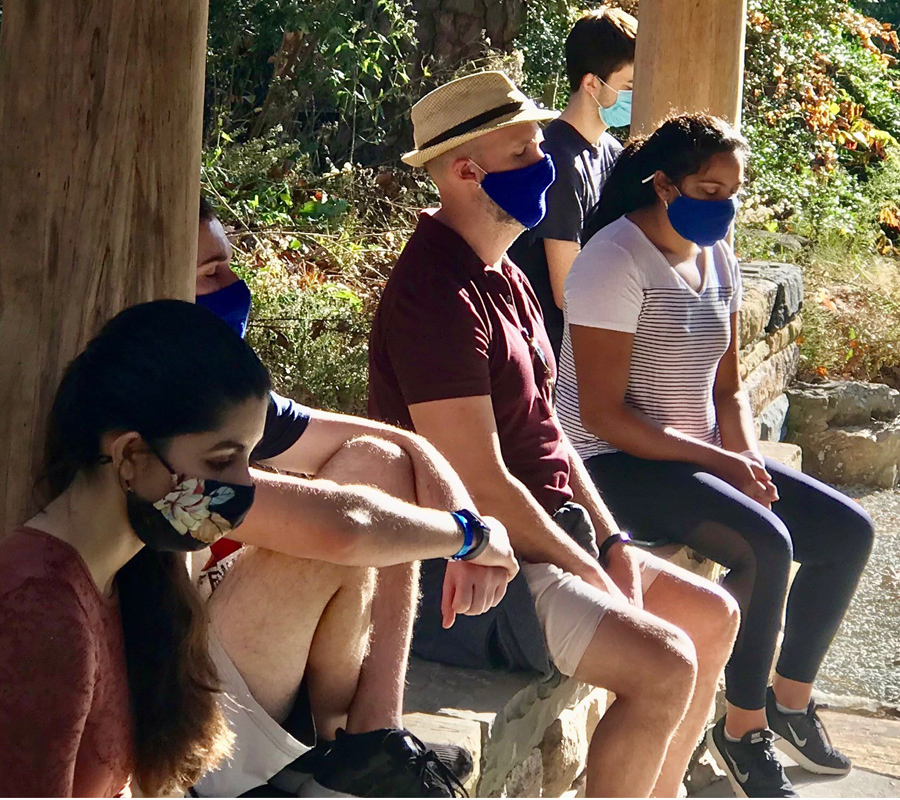 The Academic Guides partnered with the staff at the Sarah P. Duke Gardens to offer students wellness walks in the gardens to promote mindful reflection on the present and gain inspiration during a challenging semester. We organized over five wellness walks between mid-October and the end of the semester and more than 80 students joined the Academic Guides in taking time to reflect and explore the Gardens.
During the Bookbagging season the Guides hosted a variety of events to help students make informed choices about their spring semester schedule. The Academic Guides hosted Peer Advisors for two virtual drop-in question and answer sessions. Additionally, individual Guides, such as Debbie Hughes, hosted advice sessions for students to chat about their questions and concerns around bookbagging. 
During the reading period, Academic Guides hosted varying types of study breaks allowing students a chance to destress and get some tips as they prepared for finals.