Learn about past programs and events with the Academic Guides here. To find out about programming for the current semester, please contact the Academic Guide for your residence hall.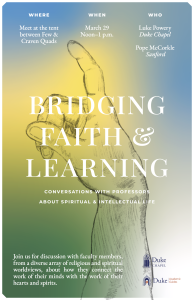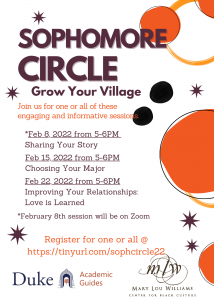 Fall 2021
November Walk into Wellness

The Great Ginkgo Guessing Game
As part of our Walk into Wellness series during November, we invite Duke undergraduates to join us for The Great Ginkgo Guessing Game, a contest that celebrates a unique phenomenon that happens every autumn. The ginkgo trees drop most of their leaves in one day, creating a lovely carpet of yellow.
Enter the contest by doing the following:
 1. Visit Duke Gardens and take a selfie with any ginkgo tree.
a. Tag @dukeacademicguides and @sarahpdukegardens on Instagram OR
b. Email your photo to us at academicguides@duke.edu
2. Guess the date of the great leaf drop (we'll use the largest ginkgo in Duke Gardens that's between the amphitheater and the terraces).
There are two chances to win a prize: any Duke undergraduate who submits a selfie with any ginkgo in the month of November and anyone who guesses closest to the magical drop of leaves on the largest ginkgo will be entered to win a warm Duke sweatshirt for the upcoming cold nights of winter! The selfie portion will last all month long while guessing the date will end once the leaves all fall. (In case of an overnight leaf drop, we'll use both days. And if nobody gets it exactly right, we'll choose from folks who guessed the closest.) So get out to Duke Gardens, enjoy the autumn, "walk into wellness," and win a cool prize!
Walks in Duke Gardens
During November, the Academic Guides are leading walks at Duke Gardens with intentional programming around wellness.
Every Wednesday and Thursday in November (except Thanksgiving week). 
Meet at the bus stop on Abele Quad at 3:55pm and we'll walk together to the Gardens or meet us at Memorial Gate at 4pm.
Duke Real Talk

College can be fun and exciting, but getting through college, especially at a place like Duke, can be tough. You might be thinking to yourself, do I belong here? What if I fail? What am I going to do with my life? At Duke Real Talk, we'll think through these and other hard questions out loud with fellow students, faculty, and staff. These casual conversations are a space to relax and be real, a time to vent and learn from others, a way to help you make it (not fake it!) through Duke.
All Duke Real Talk events will take place on Zoom.

Choosing Well: Navigating Choices During College

September 9th  7-8pm
Register to receive Zoom link

College is a time for exploring interests, making friends, experiencing new things, building community, and much more. You might find that you are constantly having to make decisions—what classes you will take on what day? what club or clubs you will join? How do you choose what to do when there are so many options and FOMO is kicking in? At the first Duke Real Talk of the semester, join the Academic Guides, faculty, and fellow students in conversations around navigating choices during your time at Duke. 
Thriving, Trying, and Crying: A Mid-Semester Check-In
October 14th  7-8pm
Register to receive zoom link

Congratulations, you've made it half-way through the semester! Now is a great time to think about what is going well and what might need some adjustments. Trust us, you are not alone if you have to recalibrate your semester goals or routines. We invite you to check-in and think about what you need during the second half of the semester.  
Burnout: Burning the Candle at Both Ends
November 11th  7-8pm
Register to receive Zoom link

Balancing academics, social commitments, research projects, work, and taking care of yourself can be challenging. Often when things are hectic and our to-do lists seem endless, the first thing we sacrifice is our own well-being. This can leave us feeling more exhausted and stressed than ever, pushing us towards burnout. What do we do to get back on track? Join us for our last Duke Real Talk of the semester as we dig into how we experience burnout and ways we can avoid it.